Written by Gábor Imre Kovács & Adam Tank
The future of wastewater treatment in the United States will look a lot different than it does today.

From our vantage point, which is a unique place in the water/wastewater industry, we get a little glimpse into the future.

Utilities, engineering consultants, and equipment suppliers – sometimes on the same project! – all use Transcend software to rapidly & automatically design and assess multiple configurations of a treatment plant and its associated equipment; aiming to find the best outcomes (CAPEX, OPEX, Carbon Footprint, etc.) for a given site in the conceptual design phase, long before the plant is ever built.

One of the data sets most interesting to us is where both greenfield and brownfield (expansion/upgrade) treatment works projects are happening around the world. Being a company with HQ's in both the U.S. and Europe, we're always looking for new and innovative ways to get our tools into the hands of utilities, consultants, and suppliers… and this year we're kicking off a new series of articles we hope you'll enjoy.
The first question we need to answer – where are treatment works going to be built? – can be found from publicly available data.

With a bit of digging we've been able to come up with some good indicators… the leading one being population increase per region.

It's pretty straightforward… more people living in a region create more municipal wastewater. But there will also be a need for more clean drinking water, and likely more industry, which brings about more wastewater as well. Even if the population increases because of migration from other parts of the country, those people can't really bring their wastewater plants from those regions 😊, so in the end, the population increase will mean more wastewater plants.
One of our talented Transcenders, Gabor Kovacs, a self-proclaimed data nerd, found the US census page, downloaded a bunch of datapoints, migrated them into one dataset, and spent an evening or two calculating the top 100 counties in the USA by population growth in the last decade.

With some additional assumptions, like expecting a population increase by the same % for the next decade and the gallons of wastewater a US citizen typically generates per day, he assumed the sizes of the plants, or plant extensions needed for all those counties.

So what you should expect from Transcend in upcoming months, and we hope you'll follow along here, are loads of interesting articles, posts, infographics, and even some suggested wastewater plant documentation & designs about these counties.

A few questions you might have about this initiative:

Does this mean there will be hundreds of articles and posts on this?
Not at all. The US census data is by counties, but counties are usually correlating with cities and their suburbs, especially during suburban sprawl, so we will likely have far fewer articles. For example, there are five counties on the list near Atlanta, or a close suburb of Atlanta, so we'll combine our findings into posts.
What is the average wastewater per day by population?
This is a datapoint that is different for every individual, and can vary by countries. In general, statisticians use the number 100, as in cubic meters per year per capita for the US, which would result in 72 gallons per day per capita, but we reduced this to 70, because of a fair assumption that people are more environmentally friendly in the next decade, and it is a round number.
Can you share some overall statistics?
Between 2010 and 2020, the Wastewater need in the US increased about 1.7 BGD, or 1.7 Billion gallons per day, including counties with increased population. On the other hand, the wastewater need is only reduced by 158 MGD including counties losing population. We have three states with an overall declining population: West Virginia, Illinois, and Mississippi. The top three growth by population are Texas, Florida, and California.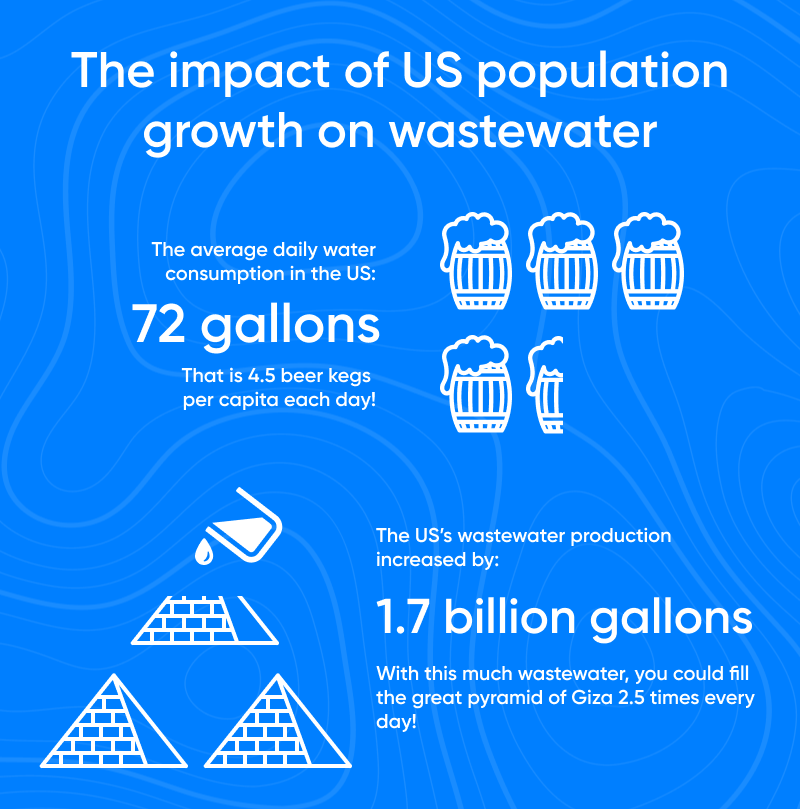 Will you share the full dataset you used?
The dataset will be uploaded to Kaggle once the articles are released.
Where can I find the previous articles?
Where can I follow along for the most recent additions?
We encourage you to follow us on LinkedIn, subscribe to our newsletter, or even run your own treatment design for free!