This article is part of our feature on the future of wastewater in the U.S.'s fastest growing metro areas. We're using the Transcend Design Generator to automatically build, expand, or upgrade regional wastewater treatment systems in each of these regions.

In a city famous for country music, the Grand ol' Opry, and cowboy hats, few people think about what goes on under the neon-sign covered streets and thousands of tourists parading around on the way to their next honky tonk.

Number 55, Number 63, and Number 90 on the list of the U.S. Top 100 fastest growing metro areas are Davidson County, Rutherford County and Williamson County, Tennessee. Davidson county covers the city of Nashville, Rutherford is to the southeast, and Williamson is to the southwest of the state capital.
In early January, it was announced that Tennessee will spend over 126 million USD on drinking water, wastewater, and stormwater infrastructure. Almost half of this funding will be spent on the "Metro Nashville Davidson," which is exactly where our data suggests it is most needed. According to the Nashville government page, the three treatment plants in Davidson County (Central, Dry Creek, Whites Creek) are all servicing the neighboring counties. This includes the two above mentioned plants, and they treat 186 MGD water combined. That is roughly the same we assume is needed for these counties together currently and is even a bit oversized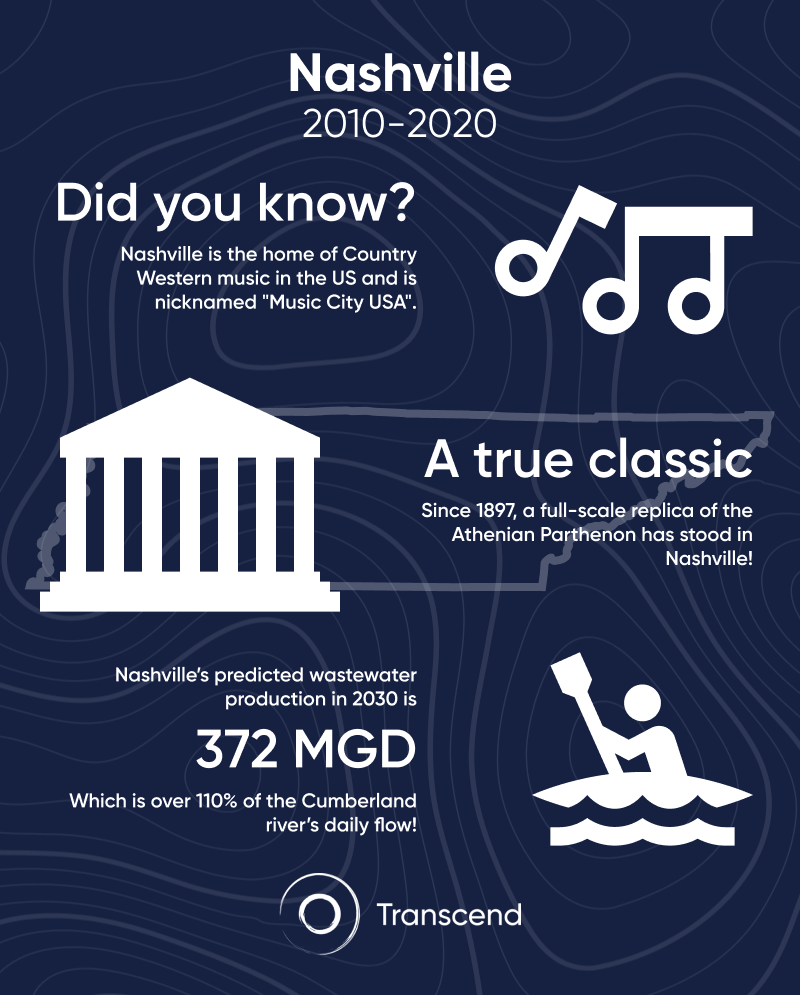 Looking at the different plant options Nashville already has, including the large Central Wastewater Treatment Plant (CWWTP), which is currently in extension, we don't think a significant growth would cause issues in the Nashville area. However, if any expansion is planned for the smaller treatment plants in the future (like the Dry Creek or White's Creek plants), we would highly recommend checking our solutions, like the following one.

Since all these three counties flow generally to the south, we've decided to have the software build a combined treatment facility for these regions together, instead of separate ones.
If you'd like to see the full design package for this treatment plant, send us a note at info@transcendinfra.com or contact us here and a member of our team will share it with you!

If you enjoyed this piece, you may also want to read about the future of wastewater in Tucson.
Resources:
TDEC Announces Additional $125.9 Million in Water Infrastructure Investments
Wastewater Treatment – Nashville.gov
Central WWTP Capacity Improvements and CSO Reduction