This article is part of our feature on the future of wastewater in the U.S.'s fastest growing metro areas. We're using the Transcend Design Generator to automatically build, expand, or upgrade regional wastewater treatment systems in each of these regions.
The next area we're designing TWO! new wastewater treatment plants for is going to make our Disney loving followers really happy – the Orlando, Florida metro.

This region has seen tremendous growth over the last decade, and the evidence proves this – the Orlando metro has four counties in the top 100 fastest growing by population… but despite this growth, there has not been a meaningful increase in the number of wastewater treatment plants.
Orange County (number 8), Osceola County (number 42), Lake County (number 54) and Brevard County (number 94) surround the city of Orlando, and have a combined population increase of 550 thousand people from 2010 to 2020.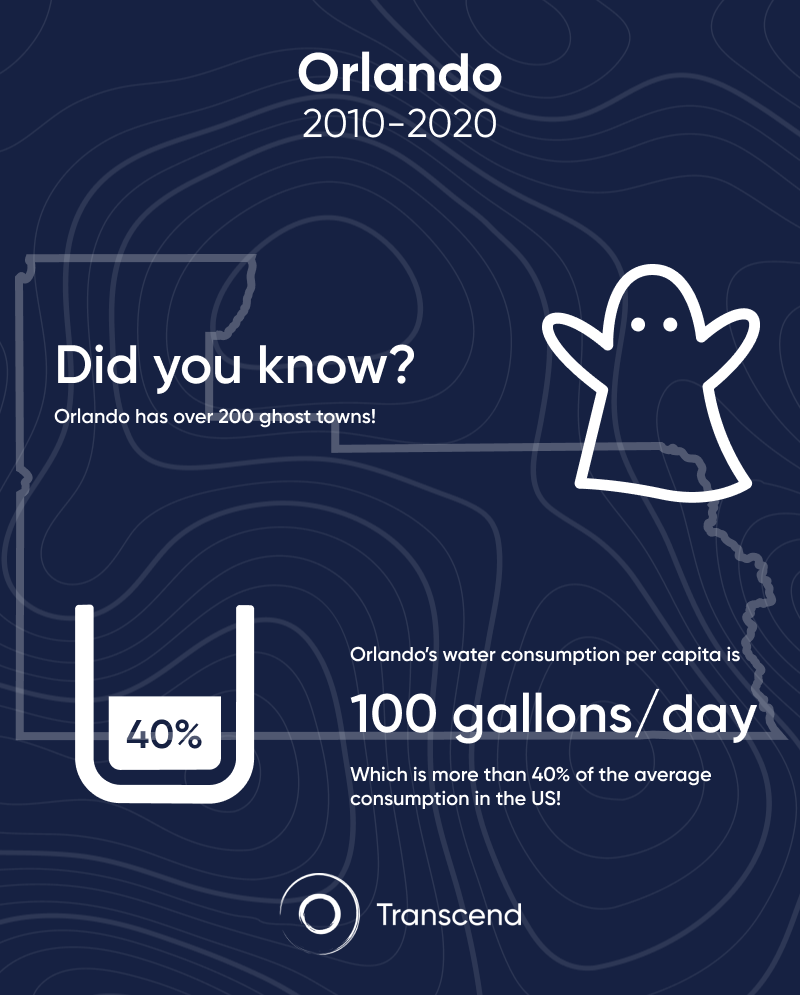 Assuming this this trend continues, and because the largest treatment plant for Orlando is in Seminole County, we are including it in our metropolitan area calculations. In total, it means we need to design plants that will treat water coming from a total of 3.9 million people. This is a large number, specifically in Florida, where people tend to use much more water. The official city of Orlando page calculates a usage of 100 gallon per capita instead of the average of 70 or 72, so we will do the same for our exercise.
The city of Orlando has a great website to check existing plant capacities, and it combines three plants for a total of 72.5 MGD. This is only half of what is needed for Orange county right now, not including the future. If we combine with the other counties, counting plant extensions as well, according to the official website data (link below), the counties have 246 treatment plants, and combine for 480 total MGD, which will be enough for the planned increase in population!

However, we question overall system efficiency & safety – including maintenance and upgrade costs – with the sheer number of treatment plants.
Of the 246 plants, only 9 are larger than 10 MGD, and 43 more are between 1 and 10 MGD. The rest, almost 200 plants, are smaller than 1 MGD, which is a very tiny plant, and 160 are smaller than 0.1 MGD.

So what we have used the Transcend Design Generator to automatically design are two plants: A proposal for a large plant in Lake County, to have a combined solution for 30 MGD, instead of the 116 plants they have scattered around, and also a new plant in Osceola County for 40 MGD, instead of the 41 plants they have there. We hope that you, and the counties, find this an interesting exercise 😊
You might find it interesting that it took our team almost three hours to get the official data for all the wastewater plants… and it only took THREE MINUTES to actually design the treatment plants using the official limits needed for the state of Florida, using a modern technology of MBBR-IFAS, and adding a UASB as the pre-biology treatment, which works well in the heat of the state.
If you'd like to see the full design package for this treatment plant, send us a note at info@transcendinfra.com or contact us here and a member of our team will share it with you!
If you enjoyed this piece you may also want to read about the future of wastewater in Nashville!
Resources:
City of Orlando – Water Reclamation Treatment Plants