Complementing TDG's municipal wastewater treatment plant design capabilities, users of TDG can now design industrial wastewater treatment systems for food & beverage use cases. Read on to learn about the details.
The Transcend Design Generator (TDG) significantly reduces resources spent during pursuits and early project stages by letting software do the monotonous aspects of design – increasing margins, enabling key staff to work on more innovative, cost-recoverable work, and creating time to pursue more bids.

The Transcend team has been hard at work building features and functions that make TDG applicable to a wide range of water & wastewater treatment-related projects. We're proud to announce that users are now able to design industrial wastewater treatment facilities.
"Off-the-shelf" treatment selection capabilities now include:
FOG Removal Tank ​
FOG handling on sludge line​
Dissolved Air Flotation (DAF) and Dissolved Nitrogen Flotation (DNF) for Primary Treatment ​
Influent conditioning for pH control (chemical dosing)​
Supplemental Nutrient Dosing (for prebiology treatment and/or biological treatment)​
Industrial UASB w/ Heat Exchanger​
Steel tanks: specifically for Mixed biological reactors; Aerated biological reactors; Mixed biological reactors with media; Aerated biological reactors with media; SBR tanks
"Off-the-shelf" design output documents now include:
Technical Description
Process Flow Diagram (PFD)
Detailed Piping and Instrumentation Diagram (P&ID) – optional
Equipment Bill of Quantity/Bill of Materials (BOQ/BOM)
Load List
Instrument List
Input/Output (I/O) List
3D Building Information Modeling (BIM) Model with all civil drawings
If you have specific questions about these capabilities, or are curious about other technologies or processes that TDG can handle that's specific to your business, please reach out to info@transcendh2o.com.
Want to dig a little deeper? Here are more technical details
Specifically, there are two additional types of technologies available:
-UASB design parameters are now extended for industrial wastewater treatment for prebiology treatment with Heat Exchanger.
We have added Industrial up flow anaerobic sludge blanket (UASB) technology with Heat Exchanger for Primary Treatment.
– Dissolved Air Flotation (DAF) as a primary treatment option is now available in TDG for industrial wastewater that requires primary phase separation and/or fat, oil and grease removal.
Broadening the influent validation ranges for industrial TDG
We have broadened the influent validation ranges to the following:
Biochemical Oxygen Demand (BOD5): 500 – 12,000 mg/L
Chemical Oxygen Demand (COD): 1,000 – 20,000 mg/L
Total Suspended Solids (TSS): 50 – 7,000 mg/L
Total Kjeldahl Nitrogen (TKN): 10 – 650 mg/L
Total Phosphorus (TP): 2 – 180 mg/L
Fats, Oils, and Greases (FOG): 2 – 5,000 mg/L
pH: 3 – 13.5
Nitrite-nitrogen (NO2-N): 0 – 100 mg/L
Nitrate-nitrogen (NO3-N): 0 – 100 mg/L
Calcium (Ca): 2 – 500 mg/L
Sulfate (SO4): 2 – 500 mg/L
Ammonia-nitrogen (NH3-N): 8 – 600 mg/L
Here's how to access industrial treatment capabilities within TDG
If your company has already subscribed to the industrial module, simply select the Industrial influent type when setting up a new project within TDG. This will grant you immediate access to the industrial wastewater design features.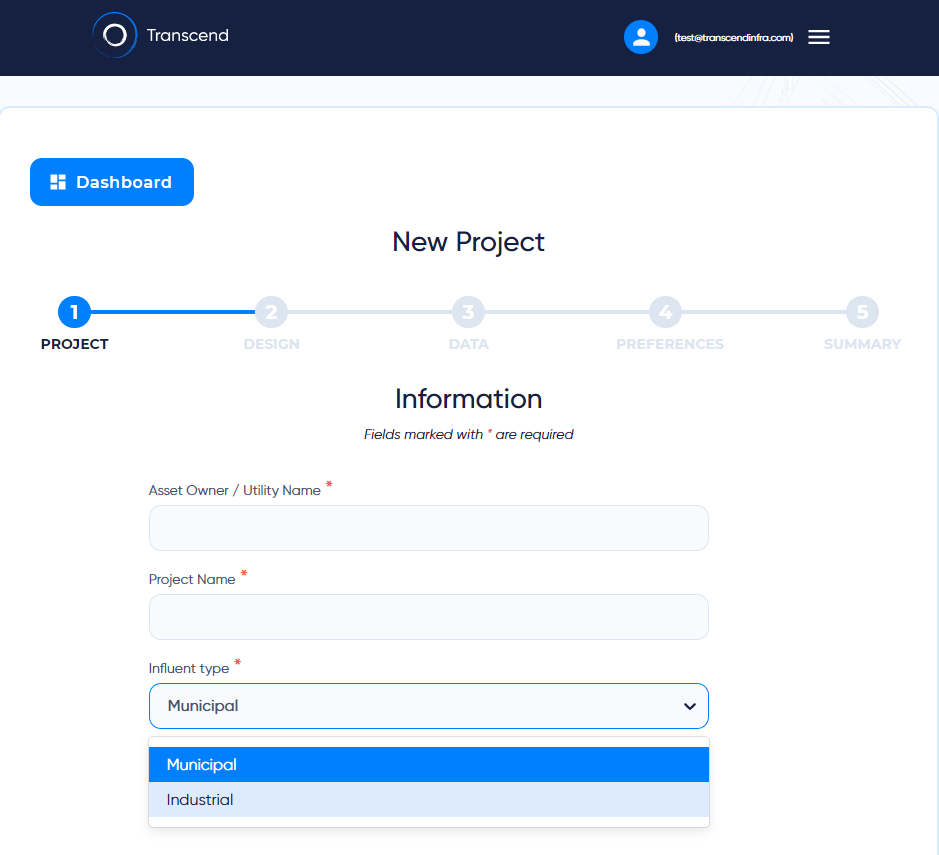 If you haven't yet included the Industrial module in your subscription, kindly reach out to your Customer Success Manager (CSM) or Sales Representative for further details on adding it to your subscription. Alternatively, you can email us at subscriptions@transcendinfra.com for assistance.
Try TDG today to see how you can benefit from the digital design revolution
Transcend Software is committed to delivering industry-leading solutions that revolutionize wastewater treatment system design. With TDG's industrial wastewater capabilities, we aim to streamline design processes, enhance project efficiency, and empower businesses to make informed decisions about their industrial wastewater management. Join us as we transcend the boundaries of wastewater treatment design and unlock new possibilities for your organization's success.
For more information, contact us.