Written by Bob Telfer, Customer Success Manager
Utilities, EPC's, and technology suppliers in water, wastewater, & power are struggling to stay on top of rapid change. Pressures mount to modernize aging infrastructure, meet tighter regulations on drinking water and wastewater effluent, connect renewable sources of power to the grid, and manage it all with fewer resources than ever before.

However, innovators and risk takers across the industry who were motivated during the pandemic to advance their digitalization efforts are demonstrating just how possible (and financially rewarding) it is for those responsible for keeping our lights on and water flowing to adapt, experiment, and innovate towards a more sustainable future.
In times of rapid change, we'll often see technology solutions emerge that have major potential for changing how we go about our work. They can redefine how work gets done, alter delivery models to customers, and change entire internal cross-functional team workflows. Such is the case with Transcend's software, The Transend Design Generator (TDG), and the transformation it brings to the early conceptual design process for critical infrastructure projects.
If you are a leader in your organization contemplating the purchase of a new software solution like Transcend, you are likely a person with a vision for some of these new opportunities. But how do you tackle the challenge of change resistance in your organization? Especially in an environment with time constraints and limited internal capacity where everyone is moving a million miles a second? Do you want to streamline your design processes?
Here are 3 tips for how you can put that vision into practice as you roll out your digital transformation initiatives.
Tip 1: Buy software from a vendor that offers you a dedicated, long-term customer success manager
A software companies CSM's are there to take some of the lift off you in the early stages of kicking off a new deployment. They've probably done it many times and have seen firsthand what good and weak deployments look like. They are a valuable source to rely on to map out your action plan over the first year of deployment. Remember that the goal of a CSM is to help accelerate you and your staff's ability to envision and fully realize value in their software.
But you aren't off the hook! In study after study, it's been shown how important the executive sponsor and project lead roles are in the early phases of kicking off a new software solution to staff. Despite all the fancy tech, it's still the basics that count: It's about the people.
Tip 2: Remember the people
Driving towards successful adoption of a new software solution begins with helping people to see the need and purpose for the change. People need to accept the purpose before they'll really commit to experimenting with a new solution. And everyone is on different stages of that change journey. Especially in the mixed demographics that we often have in the utility, AEC/EPC, and utility industries as you'll commonly see optimists, skeptics and saboteurs in every project. It's tempting to rush to a software kick-off and roll out widely and quickly to everyone, but it's often a better idea to deploy to a smaller core team. The purpose of that team is to hit some early wins with the solution.
That core team is often comprised of people who tend to jump into initiatives like these to explore the present and future possibilities of a new solution. It could be a mixed team including process, mechanical, civil, electrical, and architectural team members, business development leaders, and project managers. Consider keeping the group small (8 – 12 people) and run with this team to go after some wins that can be used as case studies and 'real world' examples to share with other parts of the company, as well as curate feedback shared throughout the early stages of the digital journey.

Setting a foundation like this can accelerate time to value and present a clearer path forward on how to expand on and fully realize value from the software. The content and resources that you can generate from early project wins will help develop strong communication strategies for people in a wider rollout who are now being asked to integrate a new solution into their daily lives.
Tip 3: Have a plan BEFORE the kick-off
Even experienced managers and leaders in a company well versed in change management best practices can struggle with fitting in the time to properly set up a software kick-off. To expedite the process, I often show Kotter's 8 step model as a quick reminder of things we need to consider when deploying Transcend within their company. It generally fits well for a new software release, and how to build momentum in your organization. And it's a reminder to take the time to do the basic early steps: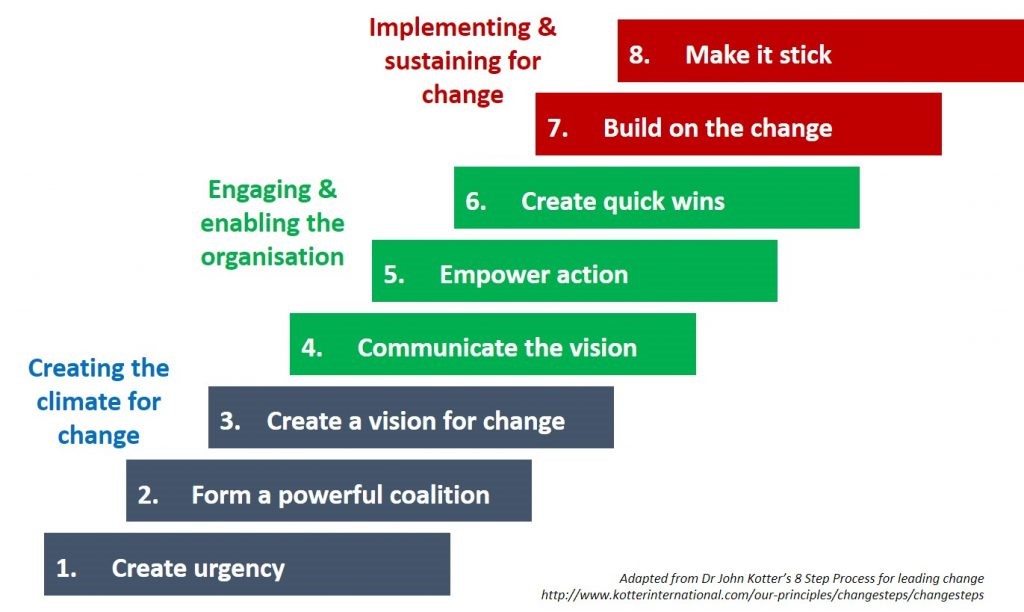 You want to take your core group through this process quickly and not be afraid to even fail a few times. After several iterations though you should see some anticipated outcomes from the solution that are clearly established and can be expanded upon. The key is for you and your CSM to work with a core team with emphasis on the following actions:
Build and then communicate on the reasons for deploying this solution NOW.
Consider it from the perspective of how the software integrates with existing company, team & individual goals.
Help participants understand the business cases that are driving this initiative, and their role in helping refine and realize value
Guide this core team to some early wins and share feedback throughout.
Remember that your CSM is there to help you along this journey of change. They are your change agent. They will partner with you in the early stages to help put the foundational pieces in place to have a successful launch. But don't forget it's table stakes for executive sponsors and project leads to commit to the early phases of a software rollout and to make the time to do it correctly. If you aren't demonstrating the importance of the project and committing that time, then why would your staff?