The integration of industrial wastewater capabilities into the Transcend Design Generator (TDG) is now complete! With this latest development, TDG now empowers users to effortlessly design comprehensive industrial wastewater treatment systems. Our latest release includes expanded ranges for wastewater temperature, flow rates, and key parameters such as Chemical Oxygen Demand (COD) and Biochemical Oxygen Demand (BOD5). Specifically tailored for the brewery, potato, and dairy industries, TDG's industrial wastewater capabilities are designed to meet the unique demands and requirements of these sectors.
By incorporating industrial wastewater design capabilities, TDG now caters to companies focused on industrial wastewater, as well as the industrial design arms of large engineering firms. We are dedicated to supporting industrial businesses seeking to evaluate multiple capital planning options, as well as equipment suppliers looking to grow their industrial businesses.
Streamlined Design Process with Impressive Outputs
Transcend customers who subscribe to the industrial module gain access to a powerful tool that generates complete, ready-to-use preliminary engineering packages for industrial wastewater treatment within a matter of hours. By providing just a few key inputs to TDG, users can effortlessly generate a range of essential outputs, including:
Technical Description
Process Flow Diagram (PFD)
Detailed Piping and Instrumentation Diagram (P&ID)
Equipment Bill of Quantity/Bill of Materials (BOQ/BOM)
Load List
Instrument List
Input/Output (I/O) List
3D Building Information Modeling (BIM) Model with all civil drawings
Unmatched Flexibility and Scalability
The Industrial version of TDG allows users to generate designs for the brewery, dairy, and potato industries right out of the box. By expanding the list of treatment technologies available in the tool, users can now generate designs for systems that incorporate the following:
Chemical dosing for pH control
Chemical dosing for supplemental nutrient dosing
Dissolved Air Flotation (DAF)
Dissolved Nitrogen Flotation (DNF)
Industrial UASB w/Heat Exchanger
Steel tanks: specifically for Mixed biological reactors; Aerated biological reactors; Mixed biological reactors with media; Aerated biological reactors with media; Membrane tanks; Coagulation tank/zone; Flocculation tank; SBR tanks
As market needs to evolve and new industrial applications arise, Transcend continues to assess and incorporate additional industries into TDG's capabilities, ensuring continuous value and adaptability for our customers.
Getting Started
If your company has already subscribed to the industrial module, simply select the Industrial influent type when setting up a new project within TDG. This will grant you immediate access to the industrial wastewater design features.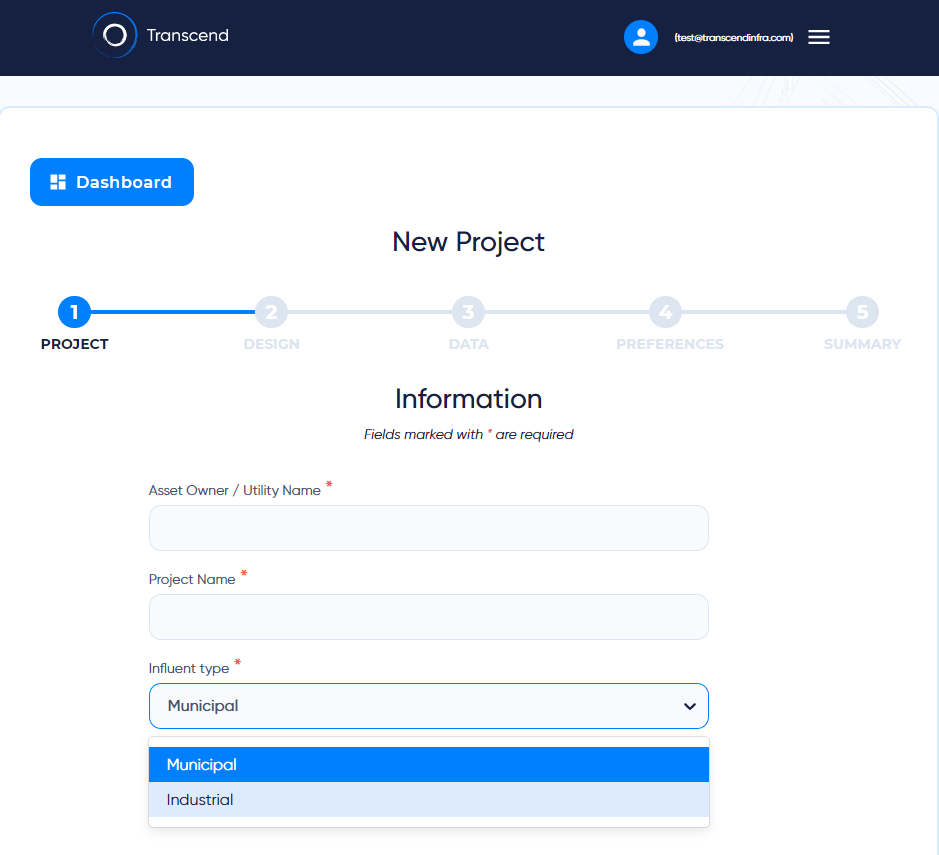 If you haven't yet included the Industrial module in your subscription, kindly reach out to your Customer Success Manager (CSM) or Sales Representative for further details on adding it to your subscription. Alternatively, you can email us at subscriptions@transcendinfra.com for assistance.
Try TDG today to see how you can benefit from the digital design revolution
Transcend Software is committed to delivering industry-leading solutions that revolutionize wastewater treatment system design. With TDG's industrial wastewater capabilities, we aim to streamline processes, enhance efficiency, and empower businesses to make informed decisions about their industrial wastewater management. Join us as we transcend the boundaries of wastewater treatment design and unlock new possibilities for your organization's success.
For more information, contact us.